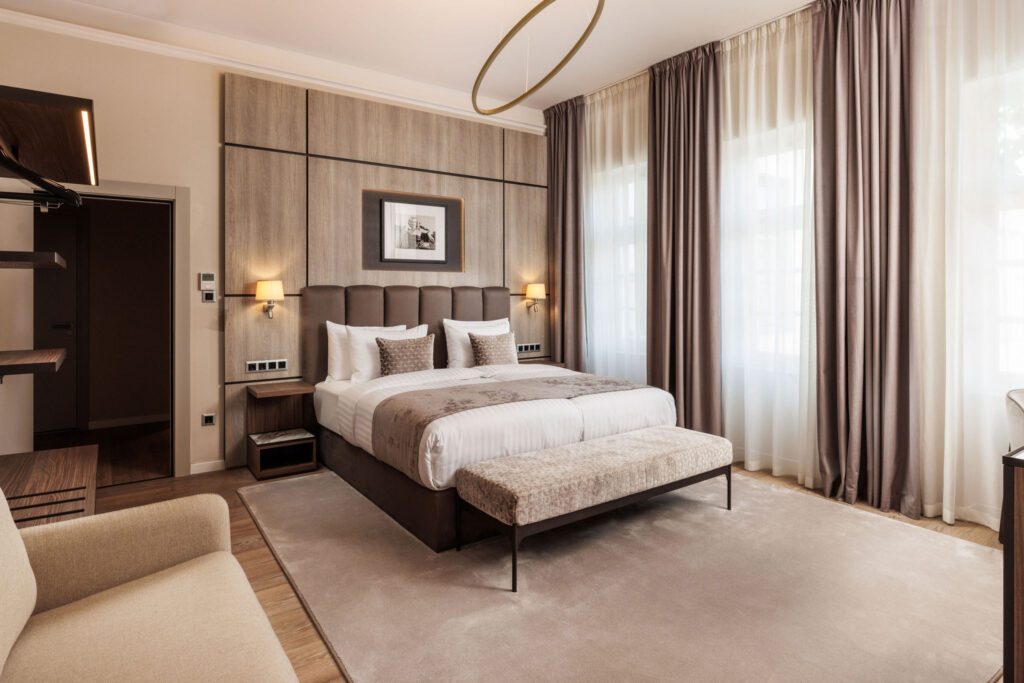 LUXURY TUNED DESIGN
The ANNA GRAND's luxuriously appointed rooms offer a relaxing break beyond the refined design, with premium mattresses and bedding, and a perfect start of the day with your own coffee machine and passionately chosen coffee pods. This unrivalled elegance and indulgent comfort is thanks in part to Dóra Farkas, the interior design coordinator.
"The biggest challenge of the hotel's transformation was to preserve the character of the listed building and to transform the interiors into a modern, luxurious environment. In the reimagined styling, it was of paramount importance to ensure the highest level of comfort, which was also a priority in the reimagining of the spaces." - said Dóra Farkas about the grandiose renovation project.
"It was important to work with local professionals as well as international manufacturers, and the joinery, wardrobes and wall panels are also the work of Hungarian colleagues. For the Italian armchairs and sofas, we typically chose pieces with suede and velvet pulls, the use of premium materials also played a role in the selection of curtains and carpets, and for the luxurious effect we worked only with solid wood."
Dóra also revealed that the ANNA GRAND royal suite, with its grandiose dimensions and unique use of materials, opens up new perspectives in the tourism market of the Lake Balaton region.
"The bed is an iconic B&B Italia piece, the sofa was chosen from Cassina, a brand that has been a dominant player in the market since the 1900s. The bathroom features a natural marble wall, a rarity in the hotel world, made of natural marble stone, with gold Axor sanitary ware designed by Antonio Citterio. The parquet is Listone Giordano, covered with Minotti carpet. Among other things, their procurement and delivery was supervised by Code Showroom" - Dóra added.