Activate your body's energies with our Thai massages that harmonize the triad of body, mind and spirit. Our professional masseuses use a variety of techniques to ensure maximum relaxation and physical rejuvenation.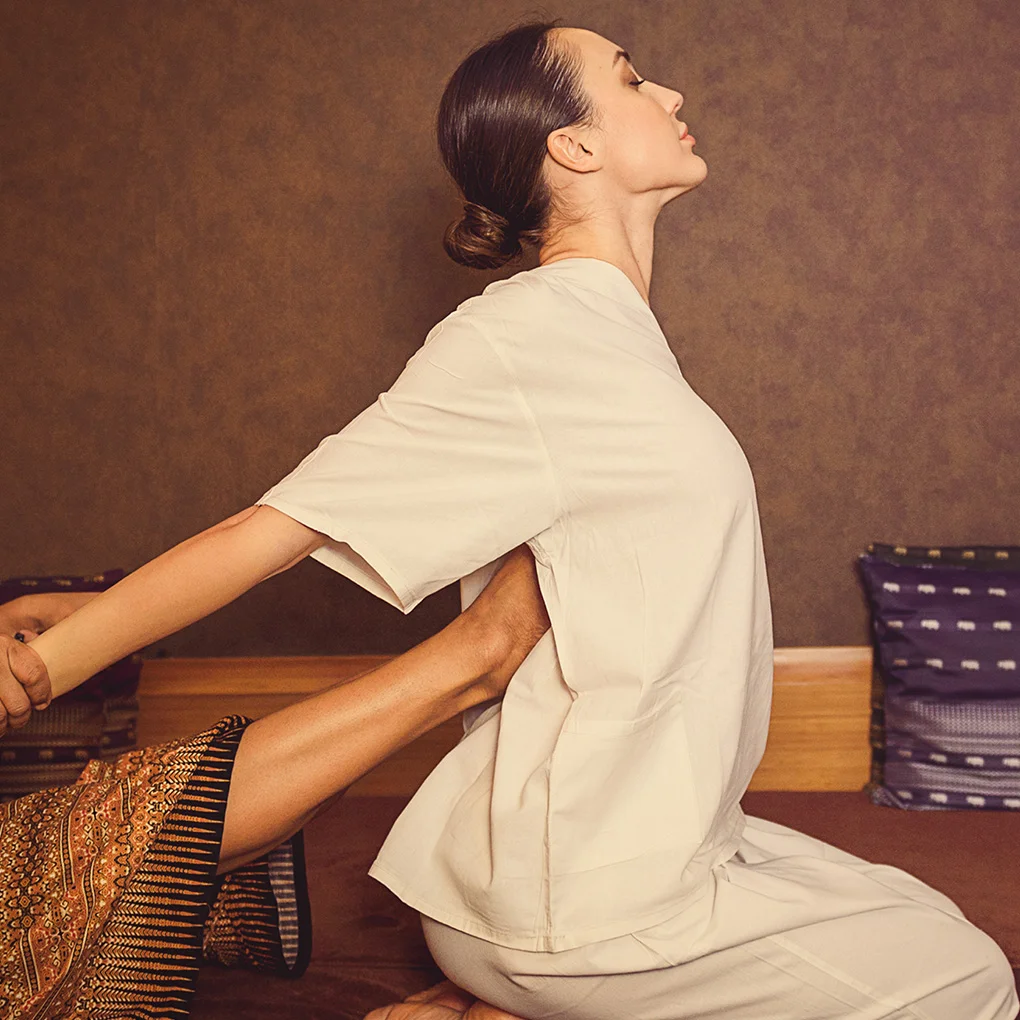 Activate your body's energies with our Thai massages that harmonize the triad of body, mind and spirit. Our professional masseuses use a variety of techniques to ensure maximum relaxation and physical rejuvenation.
Traditional massage
Thai massage is the oldest, most natural pampering for both body and soul. The massage is performed on a mat placed on the floor, in light, comfortable clothing, in lying or sitting positions. The whole-body procedure has a specific choreography, during which our qualified masseurs use not only their hands but also their forearms, elbows, feet, feet and knees to stimulate the acupuncture physiological points along the energy lines, while also performing various stretching and bending exercises on our guests.
The effect of the massage, which is based on thousands of years of experience, is both soothing and stimulating. The pressure on the energy points improves blood and lymph circulation, stimulates the internal organs and their functions, balances the body's energy system; and when combined with stretching, relieves stiffness and tension in muscles and joints, increases body flexibility and benefits the skeleton. After a massage, our guests feel more flexible, move more easily and their muscles become less stiff.
This ancient massage technique has a relaxing effect not only on the body, but also on the mind: it relaxes, has a beneficial effect on the autonomic nervous system, therefore also has a pain-relieving effect, and can be used effectively, for example, in cases of sleep disorders.
Aromatherapy-oil massage
The fragrant Thai massage with aromatherapy oil, a later developed form of traditional massage technique, during which our qualified masseurs perform special massage movements along the energy pathways of the guests. The aromatic oils work their beneficial effects directly through the skin, while also engaging the guest's multiple senses, such as smell.
During a full body massage on a special bed, the whole body is regenerated and refreshed. In an oil massage, our qualified masseurs massage essential oils into our guests' skin, which have a relaxing and stress-relieving effect. Along with stress relief, the healing oils improve well-being, stimulate blood and lymph circulation and relax muscles. Our massage therapists recommend a course of aromatherapy oil massage, but even one treatment can make a noticeable difference.
Foot reflexology
Thai foot reflexology is a fully comprehensive massage that not only treats the body but also benefits the mind. Our skilled masseurs have mastered this most ancient Thai healing technique, which not only helps to relieve tension in the feet, but also leaves the whole body feeling light and energised.
Using reflexology, our skilled masseurs apply concentrated pressure to reflex points on the feet for healing and disease prevention. Reflexology of the feet is based on the premise that the nerve zones and reflex points of the human body extend from the sole of the foot to the base of the head, touching all vital organs.
Foot reflexology massage has a whole-body beneficial effect, releasing occasional energy blocks, relaxing, relieving tension, easing pain, stimulating circulation, relaxing and rejuvenating both body and mind.
Relaxation massage
Our Relaxation Massage is mainly recommended for sedentary or stressed out guests. Our massage is effective in relieving accumulated tension and associated muscle aches, relieving tension in the shoulder and neck muscles, and targeting the energy lines running from the upper shoulders downwards, where muscle knots can form when you are sedentary for long periods of time.
Our relaxation massage has a calming effect, stimulates blood circulation, relaxes the scalp, strengthens the muscles under the scalp, relieves headaches and eye pain. Regular relaxation massage eliminates neck stiffness, fatigue, headaches, migraines.
Couples massage
We offer a special service especially for couples, as it is a very romantic and special experience. In the massage room, the couple lies side by side on two separate beds, and our two qualified masseurs work in harmony with each other, simultaneously, on the delicate and sometimes painful parts of our guests' bodies. This way, couples can enjoy an unforgettable massage experience and a wonderful refreshment together.
An excellent relaxing experience after a hard day and also a heartwarming gift idea! The unique atmosphere of our massage parlour helps couples to leave the daily routine behind and relax with ease. Afterwards, all they have to do is surrender to the experience of relaxation, which is fundamentally ensured by the candlelit ambience, heated massage area, intoxicating scents, calm, pure surroundings and soft music, among other things.
Body scrub (recommended before an oil massage)
The body scrub is made from fine ground sea salt crystals mixed with excellent skin moisturisers such as almond oil or lavender oil. As well as replenishing your body with substances that are beneficial to it, the 'salt massage' has a particular detoxifying and exfoliating effect. The contact of the tiny crystals with the skin rids us of dead skin cells, opens our pores and allows our skin to breathe again. Deeper into the skin, the salt and essential oils rid the skin of accumulated toxins. And the minerals and trace elements in the salt are absorbed and exert their beneficial effects on the body.